Leighton Buzzard Tennis Club is now running a full coaching programme for all ages and abilities. There are Junior Squads available every week day evening for children aged 4 – 18 during the school term time, and camps running during the holidays.
Individual coaching is available on request for Juniors and Adults.
Any enquiries or to book a FREE group session please ring Head Coach Ross Neary 07772 630494
For Adults there are sessions for all abilities from beginners upwards.
For those who want a fitness themed workout there is Cardio Tennis available in groups or as an individual session.
Also for Adults there is coaching for beginners or improvers at our 'Rusty Racquets' sessions on Wednesday evenings 8pm – 10pm and Saturday afternoons 2.30pm – 4.30pm.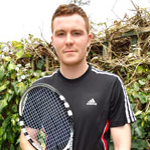 Ross Neary
Head Coach
Coaching qualifications:
LTA Level 3 licensed coach (DCA qualification)
Professional Tennis Registry Instructor (PTR Coach)
PTR 2 qualified – Advanced Technique and tactics
Cardio tennis instructor
NVQ Level 2 in teaching Tennis technique and tactics
Safeguarding children in tennis certified
DBS Checked
First Aid Trained. Fully Insured
Professional racket re-stringing/servicing certified
Ross has been coaching full time at Leighton Buzzard Tennis Club since 2008 and currently runs the coaching programme at Leighton Buzzard Tennis Club.
With 8 years of experience Ross delivers a high level of coaching within a safe and friendly environment for all ages and abilities.
Ross has played at a high level in tennis and was number 1 in the county for Bedfordshire and ranked within the top 100 in the United Kingdom.
Lessons available:
Individual Lessons – All ages and abilities
Group Lessons – Age 4+ and all abilities (mon-Fri)
Children's school holiday camps (summer/ Easter / Half term's)
Saturday Morning Multisport (Every Saturday March-December)
Cardio Tennis Lessons
To enquire about any coaching at LBTC please contact Ross: 07772630494
E-mail: nearytennis@fsmail.net
t: 01525 237 325
m: 07772 630 494
w: www.firstserve.info